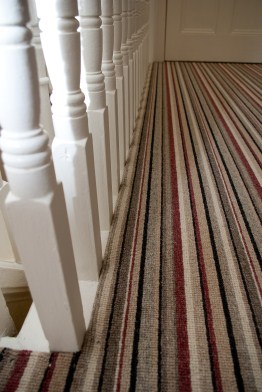 Tips on Choosing a Carpet
In general, the heavier the weight and pile density the longer the carpet will last in heavy wear areas.
Twist Pile is hard wearing and less prone to show marks and scuffs, hence it is popular in areas of heavy footfall such as hallways and stairs.
Velvet Pile is a close cut, short pile with a soft feel.
Saxony is a dense construction with a soft feel, ideal for bedrooms where a little more comfort is desired.
Loop Pile is of durable construction and available in natural or Berber flecked colours.
Shag Pile is a luxury deep pile with a soft feel.
Underlay is very important. Choosing a high quality underlay will prolong the life of your carpet as well as giving it a superior quality feel underfoot.
Caring for your carpet
Cleaning Regularly. This will extend the life of your carpet, thereby maintaining it's good appearance.
Vacuum regularly and thoroughly to remove grit. If left, grit will act as an abrasive and wear the carpet excessively.
Deal with spills the moment they occur. Work inwards towards the stain with a damp cloth and do not over soak.
Measuring Up..
Fitting new Carpet and flooring to your home can represent a significant financial outlay so it is something that many will put off doing. Get it right however and it'll keep your home looking great for years to come. Here are some tips to help you plan, budget and will save you some money.
Think about your Room's Dimensions:
Start by looking around your room to gauge the furthest distance from one end to the other. You will need to measure into window bays, around fireplaces, alcoves and into the edge of doorways.
Measure in Metres:
Most retailers' trade in metric these days so, to make price comparison a little easier, you may have to follow suit (apologies to those who, like me prefer to work in old money). You may also choose to draw a 'to-scale' diagram of your room(s) to help you to visualise the final product.
Allow a little extra for Fitting:
It goes without saying that you'll need enough material to cover the entirety of your room, plus, you'll also need to leave a little extra over for the fitter to work your flooring to the perfect finish. Allow at least an additional 5 – 10cms around the edges.
Best Fit..
In general, carpets are available in 4mtr & 5mtr widths so it is possible to save money and minimise wastage by choosing the smallest cut. Do however ensure that the dimensions of your room will allow.
The Nap of the Carpet:
Be mindful that the carpet's 'nap' runs lengthways along the roll. This will impact on the visual quality of the carpet once fitted in regards to shading and colour. Hence, if you are looking to carpet adjacent areas of your home you will need to think about the direction that the carpet runs as this may impact on the size of the cut you require.
Pattern Matching:
If your carpet is patterned, you will need to measure the 'pattern repeat' measurement, on top of your room measurements, to ensure that your fitter can match up the pattern with another cut of the same carpet. Most retailers will be happy to let you borrow samples, so this should be easy.